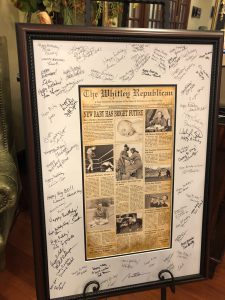 Kentucky businessman Terry Forcht celebrated his 80th birthday at the internationally renowned race track Keeneland on Friday.  Hundreds of people joined the celebration including Governor Matt Bevin to show their support and voice their admiration for the impact Forcht has made throughout his career.
Several colleagues participated in a video sharing old stories and wishing the Forcht Bank founder a wonderful 'Happy Birthday.' Among other parts of the celebration was a mock newspaper from The Whitley Republican to showcase what was going on around the world on the day of Mr. Forcht's birth.
The top story was "New Baby has Bright Future" announcing his birth, articles discussing Clark Gable's movie Test Pilot on top of the charts, the outcome of the Red Sox and Yankees game, Joe Louis winning his boxing bout, Lawrin winning the Kentucky Derby and many more interesting news bits. Perhaps one of the most fun things about the event was the birthday cake that was shaped like a bourbon barrel and poured actual bourbon.