The Salute to Small Business Awards Luncheon, presented by Forcht Bank, was held on August 22, 2019 at Keeneland. There were 6 category winners that recognized local and small businesses for their achievements throughout the year. One of the 6 winners was also crowned Small Business of the year.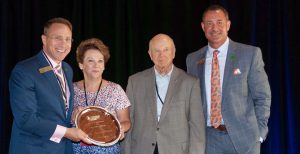 The category winners were:
Business Success Award: Hallway Feeds
Green Initiative Award: Synergy Home
Innovation Award: Wrigley Media
Legacy Award: The Locker Room Sporting Goods
Minority Business Award: Synergy Coach
Nonprofit Award: Chrysalis House, Inc.
The overall winner of the 2019 Salute to Small Business Luncheon was Hallway Feeds. Congratulations on your achievement and helping Lexington support locally-owned businesses.