NAB, National Association of Broadcasters, has announced they have elected Forcht Broadcasting President/CEO Mike Tarter to become the newest member of the board of directors.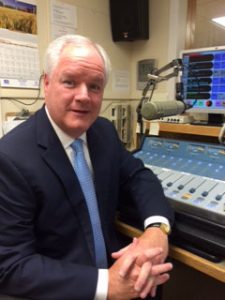 He has been in the radio broadcasting industry for over 40 years and got his start in Liberty, KY before moving to Somerset, KY in the 80's. A graduate from Western Kentucky University, he started in sports broadcasting and also an account executive.
Terry E. Forcht, Chairman of the Forcht Group of Kentucky and owner of Forcht Broadcasting, said "I believe it's important for our companies to be leaders in their respective industries, so I'm pleased that Mike Tarter will represent our radio group and radio groups across Kentucky and West Virginia on the National Association of Broadcaster's Board of Directors. We know he will represent our group and radio well."
In the early 2000's, he became the director of sales for Forcht Broadcasting and later, the group's President/CEO, the position he holds today. Tarter oversees a radio team of 66 full-time employees at 25 radio stations.
Tarter will join the 19 member board on June, 1 of this year and will serve a two year term. The NAB board is made up of leaders from the radio and television industry across the nation.
Ed Henson is a former NAB Board member and long-time friend of Forcht Broadcasting and owner of Henson Media in Henderson, Kentucky says "Mike has shown his commitment to serving the radio community through his dedicated service on the RAB (Radio Advertising Board) Board and by serving as Chairman and long-time board member of the Kentucky Association of Broadcasters. Judging from how he has served on these boards, Mike was certainly worthy of being elected to the NAB Board, and I know he will work hard on behalf of the radio stations in Kentucky and West Virginia. Kentucky has a long history of influential service on the NAB Board as exemplified by Steve Newberry, Walter May, Bud Walters, and Bill Evans. Because of his passion and commitment for radio and for radio broadcasters, Mike will continue in that tradition. He's a 'down in the trenches' servant leader."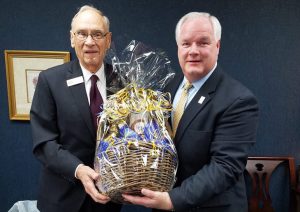 NAB Board members are elected to their positions by receiving a majority of votes from their district's NAB member radio and television stations. Mike Tarter will represent radio and television broadcasters in the Kentucky and West Virginia district.
Mike Tarter is married to Robin Tarter and have two children, Andy and Ellie. Andy attends Morehead State University and Ellie is a student at Western Kentucky University.