A few legends in the sports world and leaders throughout religion and politics took to the stage at the University of the Cumberlands Tuesday night at the Forcht Excellence in Leadership Series.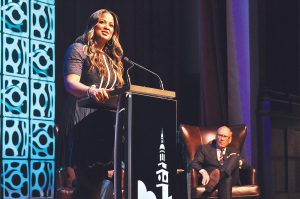 Laila Ali was joined by sports greats Terry Bradshaw and Shaquille O'Neil, along with Will Graham, Fred Thompson, and Rudy Giuliani.
After her boxing retirement, Ali has gone to host sports and television shows and shared with the audience that her passion has been the driving force in her endeavors.
She mentioned her father, famed boxer Muhammad Ali, and her didn't necessarily see eye-to-eye, but she always noticed that he frequently did whatever he could to put a smile on people's faces. "He never turned away a request for an autograph," Laila said of her father explaining that he once told her, 'Imagine how disappointed you would be if you were the person at the end of the line.'"
It wasn't until she was 17 years old and watched her first women's fight on pay-per-view that she decided she wanted to follow in her father's footsteps. "I had not played sports before that, but I was hooked," Ali said. "I didn't know what it would take, and I spent the next year fighting self doubt."
She discussed with the audience that her father doubted her and that boxing was too hard and not for women. The moment she stepped into that ring for the first time, Ali knew she made the right decision. She felt ready.
Ali retired at the age of 30 with a 24-0 record and 21 knockouts. She was upset with herself that she didn't have 24 knockouts. However, she did get something from her father that became an amazing moment in her life. He apologized for doubting her dedication and determination. This moment would finally allow the two to connect on a whole different level.
With her new role as a TV host, she said she doesn't receive the same fulfillment as she did when she got into the ring. "I spent five years trying to figure it out." This feeling of being unfulfilled has led her to developing her own lifestyle brand, something to give back with.