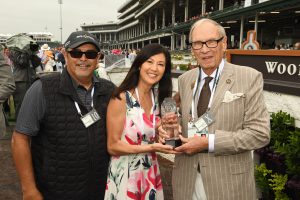 Oaks Day 2019 started a little wet, but turned into a nice overcast day. Concrete Rose, trained by George Arnold, won the 35th Running of the Edgewood presented by Forcht Bank. Concrete Rose edged out Newspaperofrecord for the final furlong of the 1-1/16th-mile race on the turf.
Yet again, Derby Day was filled with rain and clouds, but that didn't deter a crowd of over 150,000 from coming out. For the 2nd Forcht Bank sponsored race of Derby weekend 20-1 odds horse, Kneedeepinsnow trained by Shelbe Ruis, beat out Young Philip with a payout of $24.60 for a win bet.
As for the Forcht Group family, they enjoyed the yearly tradition of attending the Kentucky Derby, the mint juleps, the tradition of colorful suits, and big hats with spring dresses. Even though many were drenched from the rain, they stuck around to witness the controversial win of the Kentucky Derby by Country House.