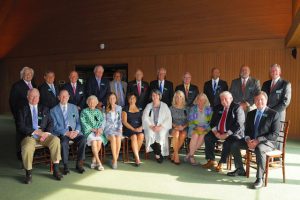 Four new honorees were inducted into Junior Achievement's Bluegrass Business Hall of Fame on Thursday, May 23 in Lexington. The 2019 Class was made up of Rufus Friday, Quita Michel, Craig and Madonna Turner, and the late Ray Rector. New and past Hall of Fame inductees posed for a group photo prior to the Hall of Fame dinner.
Junior Achievement's Purpose is to inspire and prepare young people to succeed in a global economy. The organization maintains an active vision, front and center, on how they can have a positive impact on the lives of more students guided by their core values.
Seated, from left – W. James Host, Foster Ockerman Sr., Isabel Yates, Deirdre Lyons, Madonna Turner, Ouita Michel, Ann Bakhaus, Holly Wiedemann, Alan Stein, and Keith Rector (on behalf of Ray Rector). Standing, from left – Terry McBrayer, Luther Deaton, Bill Lear, Darby Turner, Austin Simms, Terry Forcht, Gary Bello, Mike Scanlon, Rufus Friday, Craig Turner, and Steve Grossman.